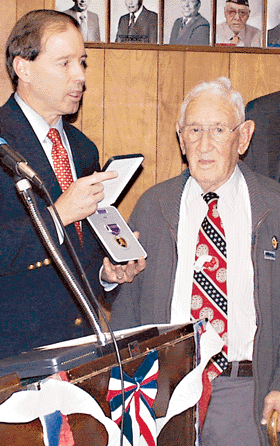 It was a little late, but better late than never for two Raton World War II veterans Wednesday when they received long-overdue service medals at a celebration hosted by the Raton Veterans of Foreign Wars Post 1793.

Frank Mora, part of an amphibious engineer team working with both the Army and the Navy during the war, was wounded twice: once in 1944 in New Guinea, and again in the Philippines in 1945. A native of Wagon Mound and raised in Springer, Mora said, "It's an honor. I never thought I'd see this day. It took almost 60 years."

As a full house of friends, families and community well-wishers looked on and snapped pictures, U.S. Rep. Tom Udall, who represents northern New Mexico, pinned a Purple Heart on Mora's sweater. Then a second Purple Heart was presented to Mora by Manuel Montoya, a representative of New Mexico U.S. Sen. Jeff Bingaman.

The Purple Heart was established in 1782 and is awarded to members of the armed forces who have been wounded in battle, or, posthumously, to service personnel who have been killed during a conflict.

Mora, who has a grandson in the Army stationed in Germany, struggled to find words to express his feelings about the current war in the Middle East and the men and women involved in it.

"It's their job, and they're doing a good job," Mora said finally. "I'm proud of them. They have to do what the boss tells them. The boss is the president."

Louis Martinez, an Army veteran of World War II, on Wednesday received the Bronze Star Medal, a decoration awarded for heroic or meritorious achievement or service in combat that doesn't include aerial flight.

"They tell me it's for bravery," Martinez said when asked what the Bronze Star signifies. "I really can't explain it. I really don't know. I served my country and did the best I could."

In his presentation, Udall pointed out that Martinez served under Gen. George S. Patton in the Battle of the Bulge in France and was one of the men who assisted in Patton's burial after the famous general was killed in a Jeep accident.

Other medals Udall presented to Martinez included the Soldier's Medal, the Meritorious Unit Emblem, the World War II Victory Medal, the Sharpshooter's Badge and the Combat Infantryman Badge.

Martinez said a reason for the delay in his receiving these honors was that his military personnel records were destroyed in a fire in Kansas City. He and friend, fellow Ratonian Gene Sisneros, were instrumental in working with the offices of Udall and Bingaman to bring these recognitions to both Martinez and Mora.

"I feel honored and I want to thank Representative Udall, because I didn't get my medal until I spoke to him," Martinez said.

Concerning the men and women serving in the Iraq conflict, he said, "I pray for those guys, for God to bring them back safely. I hope they all come back to their families."

He added, "God was watching over me then, he's watching over me now, and I pray he watches over everyone over there."

Speaking to the crowd at the VFW, Udall said America is at a crucial time in its history. He noted that more than 1,000 New Mexicans in all branches of the military are currently serving in the war with Iraq, then he praised communities throughout the state for standing behind their fighting men and women during these difficult times.

"There has been a real outpouring across this state in terms of goodwill toward these individuals," Udall said.

He told of a trip he made several weeks ago to Germany, where he visited with two injured military personnel from New Mexico. He said he told them how proud their state was of them and of the great support they're receiving back home.

"They were so moved by the idea that they were going to be supported by their families and their communities when they return," the congressman said.